How to Make a Spruce Tip Pot Arrangement
How to Make a Christmas Kissing Ball
---
Tips to Keep Evergreen Decor Fresh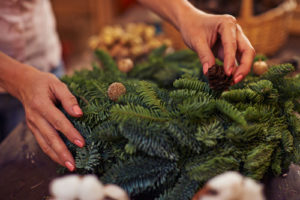 Keep Them Cool
Evergreens deteriorate more rapidly in warm temperatures. Try to display them in a cool place. Keep greens away from sunlight and direct heat.
Mist Your Greens
Mist them with water every couple days to keep greenery fresh. Just be careful if you are misting lighted greens or greens that have faux berries, flowers, or bows because the color might run.
Give Your Greens a Soak
soak your greens in a bath of cold water for about 24 hours before using them. This will help them retain moisture.
Outdoor Potted Greens
Keep them moist but not wet. Once the soil freezes, watering is no longer necessary.
Use an Antitranspirant
An antitranspirant, such as WILT PRUF or WILT STOP, is a spray that coats the leaves and needles of greens to trap the moisture in them. Your greens will last significantly longer with an application.
Shipping
If you receive a wreath or other evergreens by mail, unpack them immediately.
Touch Up or Replace Tired Looking Greens
When you greens start to look spend and needles begin falling, touch your arrangement up with new greens.
Outdoor Greens Last Longer Than Indoor
Our homes are typically dry, especially during the winter. Heat sucks moisture out of greens. If you use greens inside, make sure they have had a good soak prior to displaying and are misted regularly.